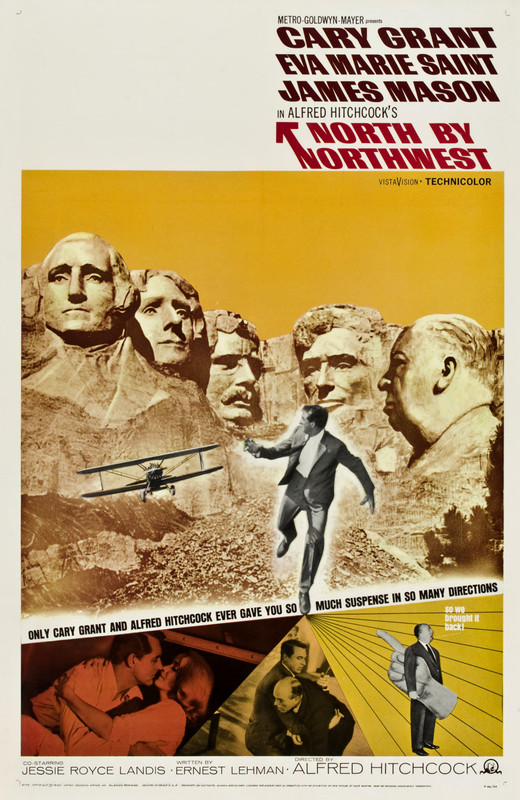 Rating: 8.6/10
Runtime: 136 min
Country: USA
Language: English
Directed by: Alfred Hitchcock
IMDb Link:http://imdb.com/title/tt0053125/

Cast

Cary Grant ... Roger O. Thornhill
Eva Marie Saint ... Eve Kendall
James Mason ... Phillip Vandamm
Leo G. Carroll ... The Professor
Jessie Royce Landis ... Clara Thornhill
Philip Ober ... Mr Townsend
Josephine Hutchinson ... Mrs Townsend

Description: Madison Avenue advertising man Roger Thornhill finds himself thrust into the world of spies when he is mistaken for a man by the name of George Kaplan. Foreign spy Philip Vandamm and his henchman Leonard try to eliminate him but when Thornhill tries to make sense of the case, he is framed for murder. Now on the run from the police, he manages to board the 20th Century Limited bound for Chicago where he meets a beautiful blonde, Eve Kendall, who helps him to evade the authorities. His world is turned upside down yet again when he learns that Eve isn't the innocent bystander he thought she was. Not all is as it seems however, leading to a dramatic rescue and escape at the top of Mt. Rushmore.

Screens

https://drive.google.com/file/d/13v0kAYQbe2_dyIbAsLJJhMpjbYaJA7LF
http://s000.tinyupload.com/index.php?file_id=72628454763000673684
Also included collection of extra materials (to be posted later):
* Official soundtrack by Bernard Hermann in FLAC quality
* Shooting script as PDF file
* Set of trailers - a standard two-minute and 15-second theatrical trailer, a 60-second TV spot, and the "Hitchcock" trailer which follows the same lines as similar trailers for Psycho and The Birds in which the director himself introduces us to the film.
* Two part extra number one:
-
"Cary Grant: A class apart"
- lasts one hour, 27 minutes and 12 seconds. It combines archival materials, clips from Grant flicks, and interviews. We hear from Bogdanovich, former wives Barbara Grant and Betsy Drake, film historians Jeanine Basinger and James Harvey, friends Roderick Mann and Ralph Lauren, authors Nancy Nelson and Todd McCarthy, film critics Elvis Mitchell and David Denby, directors George Cukor (in 1973), Howard Hawks (1967), Alfred Hitchcock (1966), Stanley Donen and Mel Shavelson, screenwriter Ernest Lehman, writer Sidney Sheldon, and actors Martin Landau, Ralph Bellamy (1988), Dina Merrill, Eva Marie Saint, Jill St. John, Deborah Kerr (1988), George Kennedy (2003), Samantha Eggar, and Douglas Fairbanks Jr. (1988). We also get some quotes from Grant's autobiographical essays.
-
"Destination Hitchcock: The making of North By Northwest"
- hosted by actress Eva Marie Saint, this 39-minute and 27-second program provides a solid overview of the making of the film. We learn about it through interviews with Saint, Lehman, actor Martin Landau, director Alfred Hitchcock's daughter Pat, and production designer Robert Boyle
* Two part extra number two:
-
"The Master's Touch: Hitchcock's Signature Style"
- runs 57 minutes, 32 seconds and features filmmakers Francis Lawrence, Peter Bogdanovich, Guillermo Del Toro, John Carpenter, Curtis Hanson, Richard Loncraine, William Friedkin, Martin Scorsese, Christopher McQuarrie, Joe Carnahan, Ruth Myers, Marvin Westmore, Ruth Carter, Gary Rydstrom, Ben Burtt, and authors Camille Paglia, David Sterritt, Steven Derosa, and Donald Spoto. We also get some archival remarks from Hitchcock himself. "Touch" offers an interpretation of Hitchcock's filmmaking techniques. This means a mix of general notes as well as specifics about various films.
-
"North By Northwest: One for the Ages"
- at 25-minute, 29-second it features Hanson, Del Toro, Friedkin, Lawrence and McQuarrie. "Ages" follows the same path taken in "The Master's Touch", as it looks at various filmmaking techniques and themes, but restricts itself to North by Northwest.
Audio and video information
Video : 2.54 GB, 2666 Kbps, 23.976 fps, 1024*576 (16:9), V_MPEG4/ISO/AVC x264 core 142
Audio : 437/78 MB (main/commentary), 448/80 Kbps, 48000 Hz, 6/2 channels, AC3/VORBIS, CBR/VBR
Subtitles (English closed captions embedded in the movie, to play them choose Subtitle=>Sub Track in VLC Player and separate English (including hearing impaired), Polish, German, French, Portuguese, Spanish, Turkish, Czech, Dutch, Finnish, Croatian, Romanian, Serbian, Italian, Danish, Swedish, Hungarian, Greek) to be posted later
Dual audio track information
This movie contains two audio tracks, one is original English, and the other is audio commentary by Ernest Lehman, movie screenwriter. You can use VLC Player to easily choose between any of audio tracks (Audio => Audio track and switch to main audio track on Track 1, commentary on Track 2)