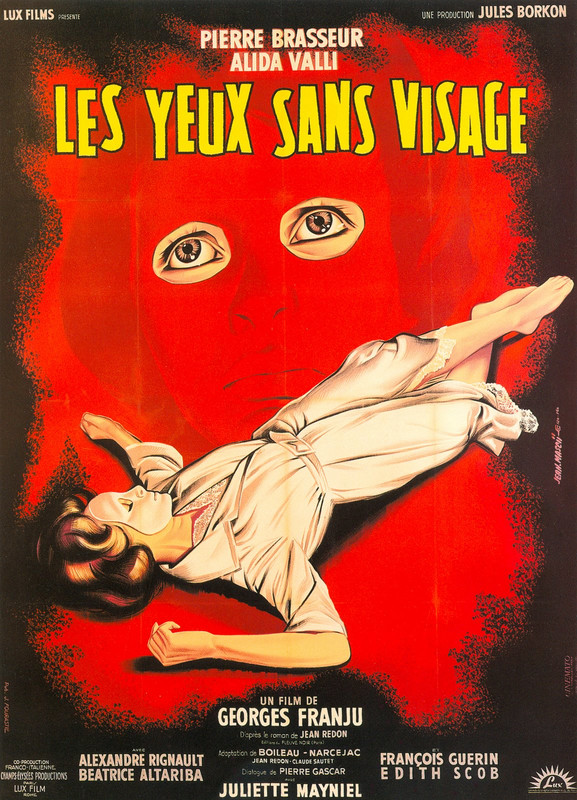 Rating 7.8/10
Runtime: 90 min
Language: French
Country: France/Italy
Directed by: Georges Franju
IMDb Link: http://www.imdb.com/title/tt0053459/

Cast

Pierre Brasseur ... Docteur Génessier
Alida Valli ... Louise
Juliette Mayniel ... Edna Grüber
Edith Scob ... Christiane Génessier
François Guérin ... Jacques Vernon
Alexandre Rignault ... Inspector Parot

Description: A brilliant surgeon, Dr. Génessier, helped by his assistant Louise, kidnaps nice young women. He removes their faces and tries to graft them onto the head on his beloved daughter Christiane, whose face has been entirely spoiled in a car crash. All the experiments fail, and the victims die, but Génessier keeps trying...

Screens:

http://s000.tinyupload.com/index.php?file_id=55347575582379797959
https://drive.google.com/file/d/0Bzph8sb3Hdu_eGxuNHFJUUs5MDg
Also included a set of extra material:
*
"Franju on Blood"
featurette - excerpt from the acclaimed TV series Cinéma de notre temps, featuring Franju on Blood of the Beasts
*
"Le Fantastique"
featurette - excerpt from the episode Le Fantastique of the French TV show Ciné Parade, featuring Franju
*
"Boileau - Narcejac"
featurette - excerpt from Les Grands-pères du crime, a documentary featuring Eyes Without a Face writers Pierre Boileau and Thomas Narcejac (Le Diabolique, Vertigo)
*
Trailers
- original theatrical and The Horror Chamber of Dr. Faustus, the latter being a name under which edited and dubbed version was shown in 1962 in USA
Video and audio information:
Video : 1.18 GB, 1900 Kbps, 23.976 fps, 676x480 ~> 801x480 (1.66:1), V_MPEG4/ISO/AVC x264 core 138
Audio : 124 MB, 192 Kbps, 48000 Hz, 1 channel, 0x55 = AC3, CBR
Subtitles (English, Spanish, German, Portuguese, Italian, Polish, Czech, Romanian, Turkish, Greek, Serbian), posters and screenshots included