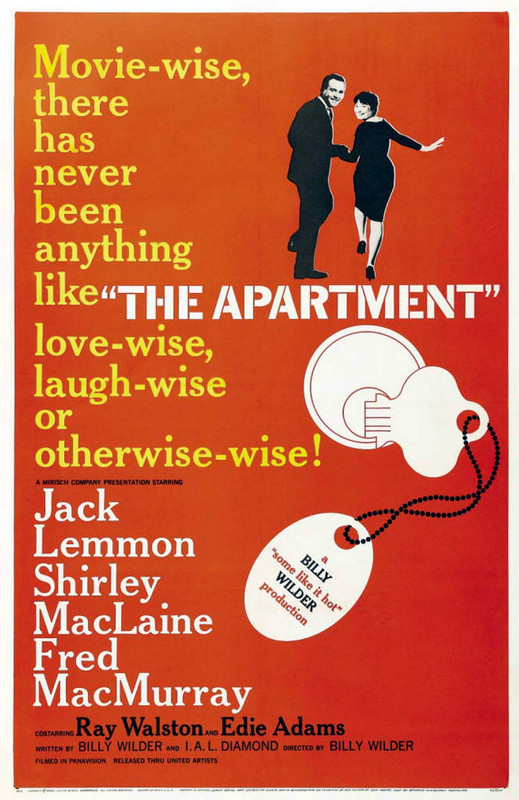 Rating 8.4/10
Runtime: 125 min
Language: English
Country: USA
Directed by: Billy Wilder
IMDb Link: http://www.imdb.com/title/tt0053604/

Cast

Jack Lemmon ... C.C. Baxter
Shirley MacLaine ... Fran Kubelik
Fred MacMurray ... Jeff D. Sheldrake
Ray Walston ... Joe Dobisch
Jack Kruschen ... Dr. Dreyfuss
David Lewis ... Al Kirkeby
Hope Holiday ... Mrs. Margie MacDougall

Description: As of November 1, 1959, mild mannered C.C. Baxter has been working at Consolidated Life, an insurance company, for close to four years, and is one of close to thirty-two thousand employees located in their Manhattan head office. To distinguish himself from all the other lowly cogs in the company in the hopes of moving up the corporate ladder, he often works late, but only because he can't get into his apartment, located off of Central Park West, since he has provided it to a handful of company executives - Mssrs. Dobisch, Kirkeby, Vanderhoff and Eichelberger - on a rotating basis for their extramarital liaisons in return for a good word to the personnel director, Jeff D. Sheldrake. When Baxter is called into Sheldrake's office for the first time, he learns that it isn't just to be promoted as he expects, but also to add married Sheldrake to the list to who he will lend his apartment...

Screens:

http://s000.tinyupload.com/index.php?file_id=47854689338170827173
https://drive.google.com/file/d/0Bzph8sb3Hdu_N2R2UFlNaHNCek0
Also included a set of extra material:
*
"Inside the Apartment"
featurette - with input from Chris Lemmon, Shirley MacLaine, Walter Mirisch, Drew Casper and others
*
"Magic Time: The Art of Jack Lemmon"
featurette - 12 minute spotlight on the actor's craft and skills with input from colleagues
Video and audio information:
Video : 1.94 GB, 2217 Kbps, 23.976 fps, 854x364 (2.35:1), V_MPEG4/ISO/AVC x264 core 133
Audio : 573/72 MB (main/commentary), 640/80 Kbps, 48000 Hz, 6/2 channels, 0x55 = AC3/VORBIS, CBR/VBR
Subtitles (English closed captions embedded in a movie, to play them choose Subtitle=>Sub Track in VLC Player and separate English, French, Spanish, German, Italian, Portuguese, Polish, Greek, Czech, Serbian, Hungarian, Swedish, Turkish, Dutch, Danish), posters and screenshots included
Dual audio track information
This movie contains two audio tracks, one is original English, and the other is additional audio commentary by film historian Bruce Block. You can use VLC Player to easily choose between any of audio tracks (Audio => Audio track, main on Track 1 and commentary on Track 2)