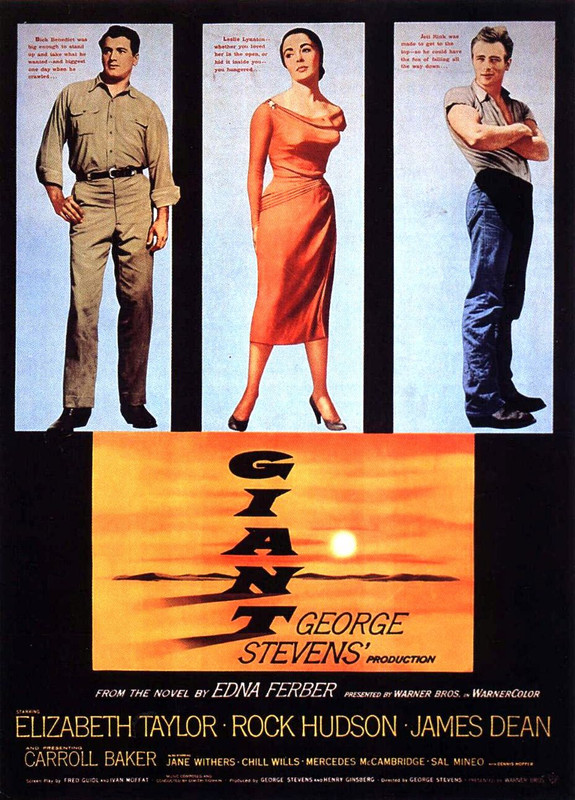 Rating 7.7/10
Runtime: 201 min
Language: English
Country: USA
Directed by: George Stevens
IMDb Link: http://www.imdb.com/title/tt0049261/

Cast

Elizabeth Taylor ... Leslie Benedict
Rock Hudson ... Jordan 'Bick' Benedict Jr.
James Dean ... Jett Rink
Carroll Baker ... Luz Benedict II
Jane Withers ... Vashti Snythe
Chill Wills ... Uncle Bawley
Mercedes McCambridge ... Luz Benedict
Dennis Hopper ... Jordan Benedict III
Sal Mineo ... Angel Obregón II
Rod Taylor ... Sir David Karfrey
Judith Evelyn ... Mrs. Nancy Lynnton

Description: Sprawling, epic tale of a wealthy Texas rancher and his wife, their descendants and their life together over 25 years. Bick Benedict met his future wife Leslie while on a trip East to buy breeding stock, returning home with a bride. Living on a half-million acre ranch takes some getting used to for Leslie as does the rough and tumble lifestyle. They have children who have their own minds and are apt to disappoint their parents over their life choices. As Leslie says at one point, you can't live their lives for them you can only raise them. Bick Benedict's rival is a former ranch hand, Jett Rink, who inherits a tract of land from Bick's late sister Luz. Jett strikes oil and becomes as wealthy as the Benedicts although there is one thing Bick has that he can never have as his own.

Screens:

https://drive.google.com/file/d/0Bzph8sb3Hdu_NEszSFRhbjF2OVk
http://s000.tinyupload.com/?file_id=08931148789548559902
Also included a set of extra materials:
*
Introduction by George Stevens Jr
*
"Memories of Giant" (1998)
- George Stevens Jr, Rock Hudson, Carroll Baker, Jane Withers and Earl Holliman are interviewed. The focus is less a making of film and more just letting various stars from the movie recall the experience - particularly how much they enjoyed the camaraderie during and after shooting. Much of this is because the film was made in "the middle of nowhere" in Texas (Marfa, Texas to be exact) - and at nights there wasn't much to do but spend their time together. We are also very lucky that the director (George Stevens) and Rock Hudson had previously been filmed talking about this, as they had died long before the special feature was made. Also, while they don't say why, apparently Elizabeth Taylor did not wish to be interviewed for the film and James Dean died way back in 1955. Well worth seeing - especially since all the nice stuff they said about each other was not part of the studio publicity department (as it's always obviously staged) and they gave some interesting anecdotes (such as how shy Dean was).
*
"On location in Marfa, Texas"
- filming locations discussed by Gig Young
*
"Giant stars are off to Texas"
- pre-production film clip
*
"A visit with Dimitri Tiomkin"
- Gig Young and movie's music composer Dimitri Tiomkin featurette
*
"Return to giant" (2003)
- Don Henley (Narrator), Don Graham (University of Texas), Earl Holliman, Bryan Woolley (Dallas Morning News), Carroll Baker, George Stevens, Jr., Dennis Hopper, Fran Bennett and Monte Hale are all featured in new or archival interviews about the making of Giant. Not only do we get the basic Hollywood story of the cast coming together, the script coming together and the director putting it all together but what's most fascinating is getting the story from the locals who had this major motion picture coming to their town. The most interesting interviews come from locals who recall the making of the movie as they saw it. It's made very clear that Stevens enjoyed the locals coming by to watch the filming and apparently he would even invite them into the local theater where he would watch the dailies. One example is Clay Evans whose property was used for the set of the house. We also hear from the Mayor of Marfa, Texas who discusses the state of the city and what it meant for them to have Hollywood come there. We're taken to where much of the film was shot and there were several places where the old sets are still standing even though they're in very bad shape today. As with any document on Giant, there's also talk of the people getting the news that James Dean had been killed. There's also some talk about how most Texans hated the book but they all fell in love with the movie.
*
"George Stevens - A filmmaker's journey (1984)
- Biography of director George Stevens by his son. It includes clips from many of his films with commentary by the actors and by directors such as Frank Capra, John Huston and Alan Pakula, among others. Also included are Stevens's war "home movies," found only after his death. Assigned by Eisenhower to film the war in Europe, Stevens used the opportunity to produce, at the same time, the only color footage ever shot in World War II. There is breathtaking film of D-Day and its aftermath; the triumphal march through Paris of the Allied liberators; and the unspeakable horrors of Dachau. This is what Goya might have done with a movie camera. On a more mundane level is a segment on Cecil B. DeMille's 1950 underhanded attempt to oust Joseph L. Mankiewicz, then president, from the Directors' Guild, which Stevens was instrumental in blocking.
*
Set of trailers
- 1956, 1963, 1970 and book trailer
Video and audio information:
Video : 5.17 GB, 3683 Kbps, 23.976 fps, 796x480 (1.66:1), V_MPEG4/ISO/AVC x264 core 138
Audio : 644/115 MB (main/commentary), 448/80 Kbps, 48000 Hz, 6/2 channels, 0x55 = AC3/VORBIS, CBR/VBR
Subtitles (English, German, Italian (all for hearing impaired) and Spanish, French, Portuguese, Danish, Czech, Chinese simplified, Finnish, Norwegian, Swedish, Turkish, Romanian, Polish, Hebrew, Japanese, Korean closed captions embedded in a movie, to play them choose Subtitle=>Sub Track in VLC Player and separate Greek, Hungarian, Serbian), posters and screenshots included
Dual audio track information
This movie contains two audio tracks, one is original English, and the other is commentary by George Stevens Jr., critic Stephen Farber and screenwriter Ivan Moffatt. You can use VLC Player to easily choose between any of audio tracks (Audio => Audio track and switch to main audio track on Track 1, commentary on Track 2)