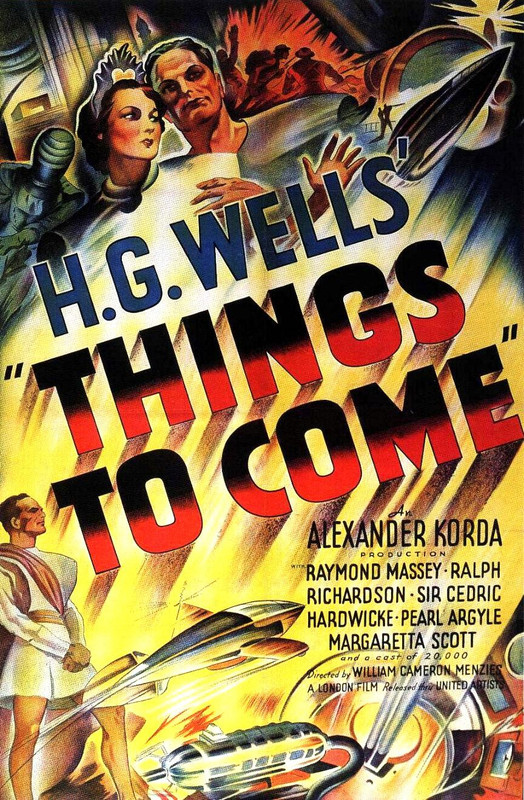 Rating 6.7/10
Runtime: 97 min
Language: English
Country: USA
Directed by: William Cameron Menzies
IMDb Link: http://www.imdb.com/title/tt0028358/

Cast

Raymond Massey ... John Cabal/Oswald Cabal
Edward Chapman ... Pippa Passworthy/Raymond Passworthy
Ralph Richardson ... The Boss
Margaretta Scott ... Roxana/Rowena
Cedric Hardwicke ... Theotocopulos
Maurice Braddell ... Dr. Harding
Sophie Stewart ... Mrs. Cabal
Derrick De Marney ... Richard Gordon
Ann Todd ... Mary Gordon

Description: It's Christmas time 1940 in Everytown. People are happy and enjoying the holiday season but all is shattered when a global war is declared. This war drags out over many decades until most of the people still alive (mostly those born after the war started) do not even know who started it or why. Nothing is being manufactured at all any more and society has broken down into primitive localized communities. In 1966 a great plague, the Wandering Sickness, wipes out most of what people are left but small numbers still survive. One day a strange aircraft lands at one of these communities and its pilot tells of an organization which is rebuilding civilization and slowly moving across the world re-civilizing these groups of survivors. Great reconstruction takes place over the next few decades and society is once again great and strong. The world's population is now living in underground cities. In the year 2035, on the eve of man's first flight to the moon, a popular uprising against progress (which some people claim has caused the wars of the past) gains support and becomes violent.

Screens:

Download link (torrent file):
https://drive.google.com/file/d/0Bzph8sb3Hdu_R0ZaaHNNVXhPalk
http://s000.tinyupload.com/index.php?file_id=66379128829409085111
With a little set of extras included:
*
"On Reflection: Brian Aldiss on H.G. Wells"
– 25 minute documentary from English writer and anthologies editor, best known for science fiction novels and short stories (1971)
*
"The Wandering Sickness"
- a recording (taken from an archival 78 rpm record) of Wells reading an excerpt from his novel The Shape of Things to Come that describes the effects of the Wandering Sickness
*
U.S re-release trailer
Video and audio information:
Video : 1.69 GB, 2484 Kbps, 23.976 fps, 720x472 ~> 720x540 (4:3), V_MPEG4/ISO/AVC x264 core 130
Audio : 267/65 MB (main/commentary), 384/95 Kbps, 48000 Hz, 1/1 channel, 0x55 = AC3/AAC, CBR/VBR
Subtitles (English closed captions embedded in a movie, to play them choose Subtitle=>Sub Track in VLC Player and separate English, Spanish, French, Portuguese-Brazilian, Turkish, Croatian, Greek, Dutch) posters and screenshots included
Dual audio track information
This movie contains two audio tracks, one is original English, and the other is commentary by film historian and writer David Kalat. You can use VLC Player to easily choose between any of audio tracks (Audio => Audio track and switch to main audio track on Track 1, commentary on Track 2)