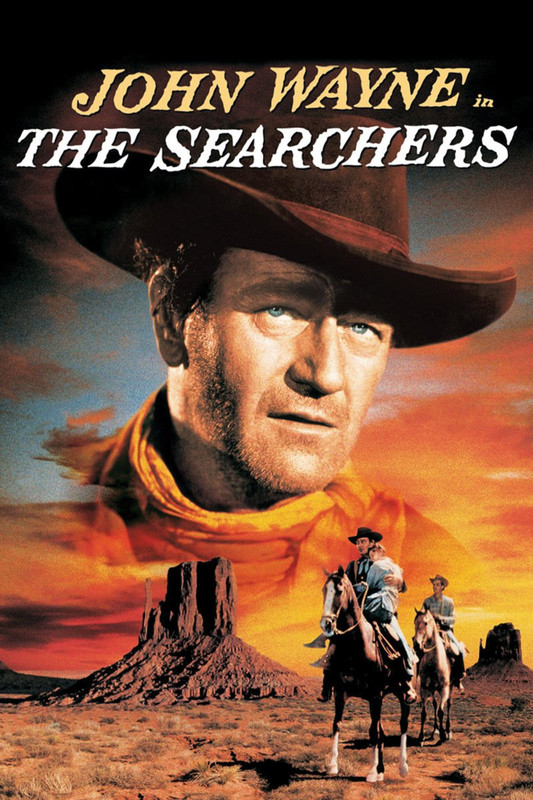 Rating 8.0/10
Runtime: 119 min
Language: English
Country: USA
Directed by: John Ford
IMDb Link: http://www.imdb.com/title/tt0049730/

Cast

John Wayne ... Ethan Edwards
Jeffrey Hunter ... Martin Pawley
Vera Miles ... Laurie Jorgensen
Ward Bond ... Rev. Capt. Samuel Johnston Clayton
Natalie Wood ... Debbie Edwards - Age 15
John Qualen ... Lars Jorgensen
Olive Carey ... Mrs. Jorgensen
Henry Brandon ... Chief Cicatriz - Scar
Ken Curtis ... Charlie McCorry

Description: Ethan Edwards, returned from the Civil War to the Texas ranch of his brother, hopes to find a home with his family and to be near the woman he obviously but secretly loves. But a Comanche raid destroys these plans, and Ethan sets out, along with his 1/8 Indian nephew Martin, on a years-long journey to find the niece kidnapped by the Indians under Chief Scar. But as the quest goes on, Martin begins to realize that his uncle's hatred for the Indians is beginning to spill over onto his now-assimilated niece. Martin becomes uncertain whether Ethan plans to rescue Debbie...or kill her.

Screens:

http://s000.tinyupload.com/index.php?file_id=57478219862968261887
https://drive.google.com/file/d/0Bzph8sb3Hdu_bkVwc0VRRjdJUkE
Also included a set of extra material:
*
"The Searchers: An Appreciation"
featurette - Three directors (Curtis Hanson, Martin Scorsese and John Milius) discuss both their own initial reactions to seeing this film when they were young as well as their impressions about what in this film made John Ford a great director.
*
"A Turning of the Earth: John Ford, John Wayne and The Searchers"
featurette - documentary on the making of movie, with outtakes, behind-the-scenes footage and interviews with many of the surviving cast and crew.
*
"Behind the Cameras: Meet Jeffrey Hunter, Monument Valley, Meet Natalie Wood, Setting Up Production"
- four episodes from the 1956 TV series (meeting the co-stars and going behind the scenes)
Video and audio information:
Video : 2.96 GB, 3572 Kbps, 23.976 fps, 854x480 (16:9), V_MPEG4/ISO/AVC x264 core 125
Audio : 163/51 MB (main/commentary), 192/60 Kbps, 48000 Hz, 1/1 channel, 0x55 = AC3/VORBIS, CBR/VBR
Subtitles (English closed captions embedded in a movie, to play them choose Subtitle=>Sub Track in VLC Player and separate English, French, Spanish, German, Italian, Portuguese, Portuguese-Brazilian, Polish, Greek, Czech, Romanian, Serbian, Hungarian, Swedish, Turkish, Dutch, Danish, Finnish, Norwegian), posters and screenshots included
Dual audio track information
This movie contains two audio tracks, one is original English, and the other is additional audio commentary by film historian Peter Bogdanovich. You can use VLC Player to easily choose between any of audio tracks (Audio => Audio track, main on Track 1, commentary on Track 2)