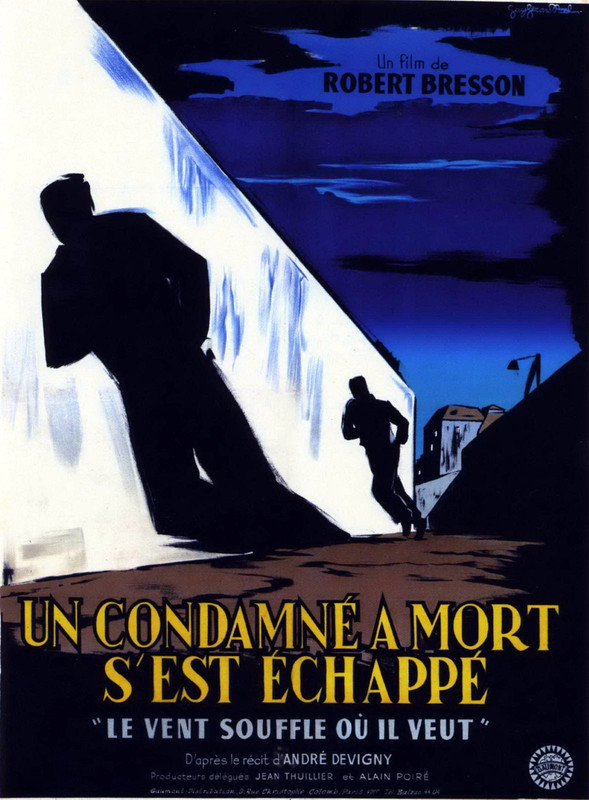 Rating 8.1/10
Runtime: 100 min
Language: French/German
Country: France
Directed by: Robert Bresson
IMDb Link: http://www.imdb.com/title/tt0049902/

Cast

François Leterrier ... Le lieutenant Fontaine
Charles Le Clainche ... François Jost
Maurice Beerblock ... Blanchet
Roland Monod ... Le pasteur Deleyris
Jacques Ertaud ... Orsini
Jean Paul Delhumeau ... Hebrard
Roger Treherne ... Terry
Jean Philippe Delamarre ... Le prisonnier 10

Description: French Resistance activist Andre Devigny is imprisoned by the Nazis, and devotes his waking hours to planning an elaborate escape. Then, on the same day, he is condemned to death, and given a new cellmate. Should he kill him, or risk revealing his plans to someone who may be a Gestapo informer?

Screens:

http://s000.tinyupload.com/index.php?file_id=33957810679915210614
https://drive.google.com/file/d/0Bzph8sb3Hdu_MFVmcUNiQ2dzVDg
Also included documentary from director Leo De Boer "De weg naar Bresson AKA The road to Bresson" (1984) - a tribute to the French director and screenwriter, and to his minimalist films about sensitive individuals (or even animals) trying unsuccessfully to survive in a cruel world. Weg Naar Bresson is divided into several segments with specific themes, such as "camera" or "theory," that are illustrated by film clips, and interviews with Bresson himself and also with acclaimed directors Andrei Tarkovsky, Louis Malle and Paul Schrader.
Video and audio information:
Video : 1.90 GB, 2705 Kbps, 23.976 fps, 768x576 (4:3), V_MPEG4/ISO/AVC x264 core 120
Audio : 138 MB, 192 Kbps, 48000 Hz, 1 channel, 0x55 = AC3, CBR
Subtitles (English, Spanish, French, German, Italian closed captions embedded in a movie, to play them choose Subtitle=>Sub Track in VLC Player and separate English, Spanish, German, Portuguese-Brazilian, Italian, Polish, Serbian, Czech, Greek, Turkish), posters and screenshots included