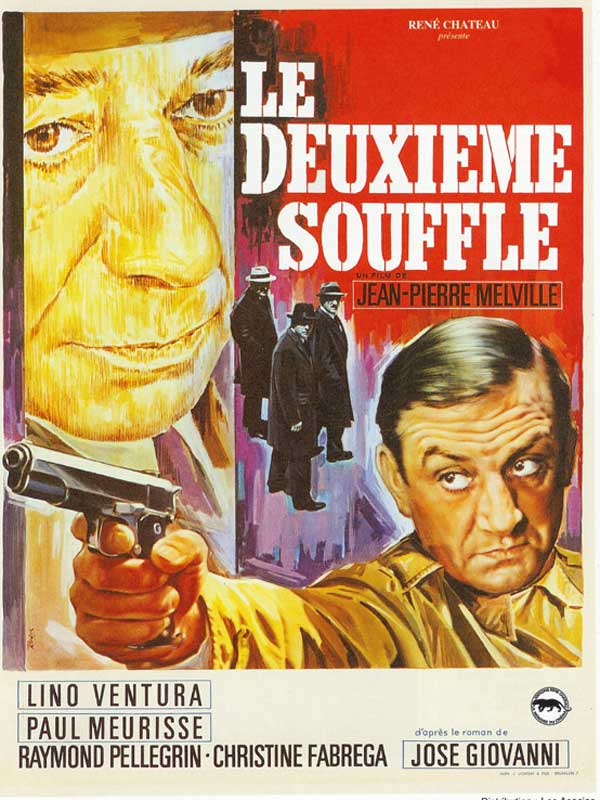 Rating 7.9/10
Runtime: 150 min
Language: French
Country: France
Directed by: Jean-Pierre Melville
IMDb Link: http://www.imdb.com/title/tt0060305/

Cast

Lino Ventura ... Gustave 'Gu' Minda
Paul Meurisse ... Commissaire Blot
Raymond Pellegrin ... Paul Ricci
Christine Fabréga ... Simone - dite 'Manouche'
Marcel Bozzuffi ... Jo Ricci
Paul Frankeur ... Inspector Fardiano
Denis Manuel ... Antoine Ripa

Description: Three prisoners break from the prison and the notorious Gustave 'Gu' Minda is the only one that survives. He heads to Paris where he meets his lover Manouche and his friend and Manouche's bodyguard Alban that take him to a hideout. Meanwhile the smart Commissary Blot is investigating a shooting plotted by the mobster Jo Ricci and the gangster Jacques the Lawyer that is murdered. Gu decides to travel to Italy but he is short of money; his friend Orloff invites him to participate in the heist of an armored truck with his friend Paul Ricci and the gangsters Antoine and Pascal in Marseille. The talkative Inspector Fardiano is responsible for the investigation, but the persistent Commissary Blot believes that Gu is behind the scheme.

Screens:

https://drive.google.com/file/d/0Bzph8sb3Hdu_aGQtbV9SZGNPdE0
http://s000.tinyupload.com/index.php?file_id=06756768588013737315
Also included set of extras, with English subtitles:
*
Video interview with director Bertrand Tavernier who served as publicity agent on the film
- 11'37"
*
"Cinèma" - featuring interviews by François Chalais with Melville and actor Lino Ventura
- 25'53"
* "
Original theatrical trailer
- 2'19"
* "
"Province Actualitès" - a 4 minute newsreel taken from the set of the movie
Video and audio information:
Video : 2.08 GB, 1978 Kbps, 23.976 fps, 676x480 ~> 801x480 (1.66:1), V_MPEG4/ISO/AVC x264 core 129
Audio : 206 MB, 192 Kbps, 48000 Hz, 1 channel, 0x55 = AC3, VBR
Subtitles (English, Greek closed captions embedded in a movie, to play them choose Subtitle=>Sub Track in VLC Player and separate English, Spanish, Portuguese-Brazilian, Polish, Italian, Turkish, Serbian), posters, sample and screenshots included