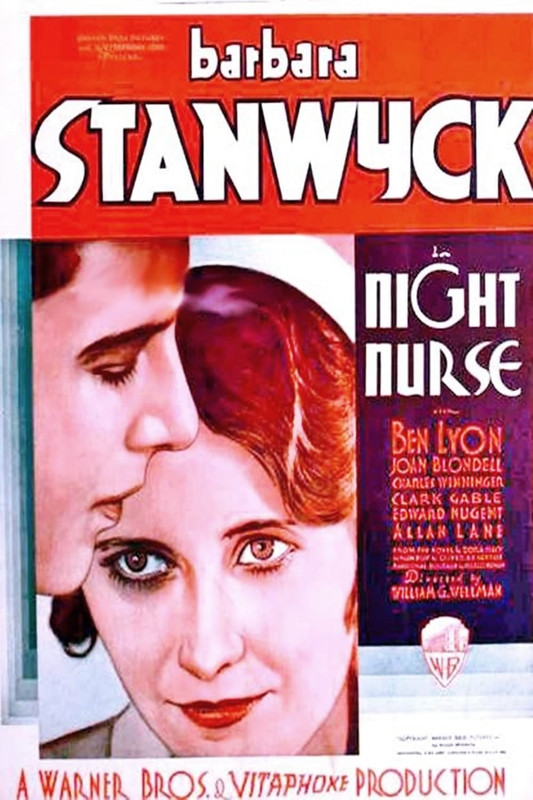 Rating 7.0/10
Runtime: 72 min
Language: English
Country: USA
Directed by: William A. Wellman
IMDb Link: http://www.imdb.com/title/tt0022208/

Cast

Barbara Stanwyck ... Lora Hart
Ben Lyon ... Mortie
Joan Blondell ... Maloney
Clark Gable ... Nick
Blanche Friderici ... Mrs. Maxwell
Charlotte Merriam ... Mrs. Ritchey
Charles Winninger ... Dr. Bell
Edward J. Nugent ... Eagan

Description: Despite being turned down by Miss Dillon, the head nurse, as she doesn't have the necessary qualifications, penniless yet streetwise Lora Hart is able to use her charms on Dr. Arthur Bell, the chief of staff, to obtain a position as a probation nurse at the hospital. She ends up rooming in the nurses' quarters with fellow probation nurse, cynical Miss Maloney, who takes Lora under her wings. They are assigned to the night shift for four weeks, a shift where the criminal element is more likely to come into the emergency ward. It is there that Lora meets a bootlegger named Mortie, who falls for her after she risks her job to help him. In her first post-graduation assignment, Lora is sent into the private care of two children, sisters Desney and Nanny Ritchey, just released from hospital for anemia. Lora is alarmed by the care provided by the attending physician, Dr. Milton Ranger, who seems to be starving the children to death. Lora can't report him without risking her career and while still not saving the children as it's her word against his, a respected doctor. She has to find out what's going on, which seems to have something to do with the children's continually drunk and partying mother, and her chauffeur, Nick. Lora may get some help from someone who knows more about dealing with the criminal element than her.

Screens:

https://drive.google.com/file/d/0Bzph8sb3Hdu_MG0wc2tDWDNiZ28
http://s000.tinyupload.com/index.php?file_id=90582123177033080075
Video and audio information:
Video : 1.54 GB, 3065 Kbps, 23.976 fps, 720x480 ~> 720x540 (4:3), V_MPEG4/ISO/AVC x264 core 148
Audio : 99/41 MB (main/commentary), 192/80 Kbps, 48000 Hz, 1/2 channel(s), 0x55 = AC3/VORBIS, CBR/VBR
Aslo included extra material:
Thou Shalt Not: Sex, Sin and Censorship in Pre-Code Hollywood (1:07:56)
- 2008 documentary written by Steven Smith and featuring the insights of film historians and cultural critics including Molly Haskell, Camille Paglia and Leonard Maltin, lays out the history of the Motion Picture Production Code in clear, chronological detail, explaining how it came into being and, later, how movies changed when it began to be enforced.
The Code was a set of moral guidelines instituted by the Hays Office, a watchdog group led by the former U.S. postmaster general Will Hays, indicating what kinds of scenes, situations and language were acceptable in films. Its goal was to protect moviegoers from any unwholesome influences that might float down from the screen and do moral harm.
Though the Code wasn't fully enforced until 1934, it had actually been instituted in 1930, as Hollywood's way of responding to anxiety over the way film content had been changing since the advent of talkies. In 1930, the MPPDA, a trade association of movie studios that had been formed in 1922 (and which was later renamed The Motion Picture Association of America, as it's known today), introduced and immediately adopted the Motion Picture Production Code. Hays, the MPPDA's first president, oversaw the drafting of the Code, and although the studios were willing to abide by it - they had, after all, helped forge it - economic pressures in the early years of the Depression led them to virtually ignore its admonitions. Failing box-office figures meant the studios needed to lure audiences into movie theaters, and portraying all manner of dazzling criminal activity and saucy antics among sophisticated city folk was the best way to do that.
Thou Shalt Not explores the films of the early 1930s, using clips and commentary to show what made them so exciting and vital. As of 1930, the MPPDA didn't necessarily have a moral agenda, and outlandish films like Cecil B. DeMille's 1930 Madam Satan carried over plenty of moral decadence from the 1920s: a party scene features male guests wearing feathery codpieces and a girl in a tiny, silvery costume perched on a swing. In Thou Shalt Not, the filmmaker John Landis calls Madam Satan "downright pornographic," and just from what we can see in these clips, he's probably right. Other films were far less cheerful, disturbing to audiences for other reasons - in 1930, with some 5 million people unemployed, cynicism and despair had taken root and that was reflected in the movies, too. In a clip from William Wellman's 1933 "Heroes for Sale", a man down on his luck laments, "It's the end of America." His friend offers a democratic yet cheerless response: "No, maybe it's the end of us, but it's not the end of America."
Subtitles (English (hearing impaired) and French closed captions embedded in a movie, to play them choose Subtitle=>Sub Track in VLC Player and separate English, Spanish, French, Turkish) posters and screenshots included
Dual audio track information
This movie contains two audio tracks, one is original English, and the other is commentary by American film historians and authors Jeffrey Vance and Tony Maietta, who both specialize in the "Golden Age" of Hollywood. You can use VLC Player to easily choose between any of audio tracks (Audio => Audio track and switch to main audio track on Track 1, commentary on Track 2)