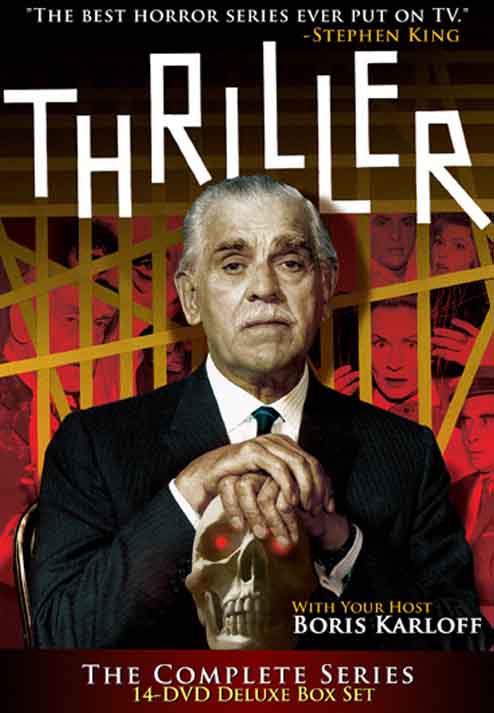 Thriller (a.k.a. Boris Karloff's Thriller) is an American anthology television series that aired during the 1960–61 and 1961–62 seasons on NBC. The show featured host Boris Karloff introducing a mix of macabre horror tales and suspense thrillers.

Thriller was created by Hubbell Robinson for MCA's Revue Studios. It was produced by Fletcher Markle, William Frye and Maxwell Shane. Among the many writers for the series were Robert Hardy Andrews, and Robert Bloch, who adapted a number of his own stories, notably "The weird tailor"

In addition to serving as the host of the series, Karloff starred in five episodes: "The Prediction", "The Premature Burial", "The last of the Sommervilles", "Dialogues With death" and "The incredible Doctor Markesan"

Other actors included Leslie Nielsen in the show's first episode "The Twisted Image", Rip Torn in "The Purple Room", William Shatner in two episodes: "The Hungry Glass" and "The Grim Reaper", Constance Ford in two episodes, Mary Tyler Moore in two episodes and Edward Andrews in three episodes. Child actress Beverly Washburn appeared in "Parasite Mansion", Joan Tompkins appeared in "The Cheaters" and "Mr. George", Elizabeth Montgomery, Tom Poston and John Carradine starred in the episode "Masquerade" while Ed Nelson starred in four episodes: "The Fatal Impulse", "The Cheaters", "A good imagination" and "Dialogues with death."

Other performers included: George Grizzard, Natalie Trundy, Bethel Leslie, Patricia Medina, Patricia Barry, Richard Anderson, Richard Chamberlain, Elisha Cook, Conrad Nagel, Russell Johnson, Diana Millay, Philip Carey, Kathleen Crowley, Susan Oliver, Rodolfo Hoyos, Jr., J. Pat O'Malley, Henry Daniell, Robert Vaughn, Marlo Thomas, John Ireland, Jeanette Nolan, Virginia Gregg, Hazel Scott, Lloyd Bochner, Scott Marlowe, Judson Pratt, Olive Sturgess, Mary Astor, Marion Ross, MacDonald Carey, Natalie Schafer, Phyllis Thaxter, Estelle Winwood, Antoinette Bower, Jo Van Fleet, Jane Greer, Dick York, Jocelyn Brando, Richard Carlson, William Windom, George Kennedy, Cloris Leachman, Monte Markham, Patricia Breslin and Edward Binns.


General audio and video information:

Video : 510-550 MB, ~1500-1600 Kbps, 23.976 fps, 640*480 (4:3), XviD 1.2.1 (UTC 2008-12-04)
Audio : 45-80 MB, 128/96 Kbps, 44100 Hz, 2 channels, 0x55 = Lame MP3


Additional note:

Most episodes have additional features included such as a commentary track featuring Arthur Hiller, Patricia Barry, Ernest Dickerson, David Schow, Tim Lucas, Gary Gerani, Jim Wynorski, Richard Anderson, Lucy Chase Williams, Steve Mitchell, Marc Scott Zicree, Alan Brennert, Beverly Washburn, Larry Blamire, Jon Burlingame, Daniel Benton, Ron Borst, and Craig Reardon, isolated music score and effects tracks from composers Jerry Goldsmith and Morton Stevens or episode promo (not included in my source).

Episodes included in this post:

1x01 - The twisted image (Audio commentary by Arthur Hiller and Steve Mitchell, Episode Promo)
1x02 - Child's play (Episode Promo)
1x03 - Worse than murder (Episode Promo)
1x04 - The mark of the hand (Episode Promo)
1x05 - Rose's last summer
1x06 - The guilty men (Episode Promo)
1x07 - The purple room (Audio commentary by Richard Anderson and Steve Mitchell)
1x08 - The watcher (Episode Promo)
1x09 - Girl with a secret (Episode Promo)


Unfortunately there are no subtitles available.


Screenshots from various episodes:


Episode 1 - The twisted image
Cast:
Boris Karloff ... Himself - Host
Leslie Nielsen ... Alan Patterson
George Grizzard ... Merle Jenkins
Natalie Trundy ... Lily Hanson
Dianne Foster ... Judy Patterson
Constance Ford ... Louise Jenkins
Description: Business executive Alan Patterson's life takes a surreal turn when two mentally disturbed people independently wind up with fixations on his life. One wants to marry him, and the other wants to be him.
Episode 2 - Child's play
Cast:
Boris Karloff ... Himself
Frank Overton ... Bart Hattering
Bethel Leslie ... Gale Hattering
Tom Nolan ... Hank Hattering
Parley Baer ... Fisherman on Mountain
George Werler ... Fisherman in River
Description: A lonely boy becomes perilously lost in fantasy, as his parents spar over raising him, then debate separating. In a mountain cabin for the summer, the mother and son battle boredom, while the father pounds out magazine articles in his room. When the father's too busy to take his son hunting, the boy sneaks out on his own with a loaded rifle, pursuing the villain of his fantasies - Black Bart. Back in the cabin, the mother reveals that the son was booted from summer camp, for shooting an apple off another camper's head.
Episode 3 - Worse than murder
Cast:
Boris Karloff ... Himself
Constance Ford ... Connie Walworth
John Baragrey ... Dr. Ralph Mitchell
Christine White ... Anne Walworth
Harriet E. MacGibbon ... Myra Walworth
Dan Tobin ... Ray
Description: A wealthy man ravaged by a recurring nightmare dies, without leaving a will, infuriating his widowed daughter-in-law, whose husband squandered everything. The suspicious daughter-in-law grabs one of the elderly man's elaborate diaries before the executor can take control of it. The diary implies the nightmare is the murder of an elderly woman by her son and daughter, via injection. The daughter-in-law plans to carve a big chunk of the inheritance through blackmail.
Episode 4 - The mark of the hand
Cast:
Boris Karloff ... Himself
Mona Freeman ... Sylvia Walsh
Jessie Royce Landis ... Mrs. Kilburn
Shepperd Strudwick ... Douglas Kilburn
Rachel Ames ... Betty Follett
Judson Pratt ... Lt. Bill Gordon
Description: When a man is shot and killed, an eight-year-old girl who is found at the scene of the crime—with the murder weapon in hand—seems the only logical suspect. Unfortunately, she refuses to speak to anyone ever again.
Episode 5 - Rose's last summer
Cast:
Boris Karloff ... Himself
Mary Astor ... Rose French/Mrs. Horace Goodfield
Lin McCarthy ... Frank Clyde
Jack Livesey ... Haley Dalloway
Dorothy Green ... Ethel Goodfield
Hardie Albright ... Willet Goodfield
Description: The corpse of a once popular movie actress turns up in a private garden miles from her home, but her ex-husband and a friend suspect that all is not as it seems.
Episode 6 - The guilty men
Cast:
Boris Karloff ... Himself
Everett Sloane ... Lou Adams
Jay C. Flippen ... Harry Gans
Frank Silvera ... Cesare Romano aka Charlie Roman
John Marley ... Dr. Tony Romano
Anne Barton ... Martha Adams
Description: Syndicate turns almost legit, but debates its don's proposal to cease shipping narcotics, and go above board in 1960. In the Roaring 20's, the leader began by mugging a neighbor to get money to bury his father. Instead, his brother followed their father's advice, becoming a public health physician. Their childhood pal is the mob's lawyer, who struggles to mediate, as his brother's health fails, and the Feds close in.
Episode 7 - The purple room
Cast:
Boris Karloff ... Himself
Rip Torn ... Duncan Corey
Patricia Barry ... Rachel Judson
Richard Anderson ... Oliver Judson
Alan Napier ... Lawyer Ridgewater
Description: Heir feels smug about a mandatory night in a haunted mansion - armed with .38 & New York attitude. Otherwise his cousins reap the valuable Bayou property they shared with the deceased. Duncan shrugs off the legend of an ancestor who went mad after accidentally killing her husband, when he fought a ghostly intruder. Duncan's smirky superiority immediately riles the country cousins he's never met, but Duncan feels equally prepared for any spooky tricks from them.
Episode 8 - The watcher
Cast:
Boris Karloff ... Himself
Martin Gabel ... Freitag
Stuart Erwin ... Uncle Florian
Olive Sturgess ... Beth Pettit
Richard Chamberlain ... Larry Carter
James Westerfield ... Al Matthews
Alan Baxter ... Sheriff Phil Archer
Description: Authorities in a resort community cover up the suspicious death of a teenager so tourism doesn't suffer. As summer fades, a deputy sheriff gains permission to quietly investigate the death. Meanwhile a rigid, controlling teacher visiting for the season, grows increasingly disturbed as he spies on the secret relationship between a young neighbor and a boatyard manager, who are both already squirming under the power of adults in the small town.
Episode 9 - Girl with a secret
Cast:
Boris Karloff ... Himself
Fay Bainter ... Geraldine Redfern
Paul Hartman ... Uncle Gregory Stafford
Anne Seymour ... Aunt Hortense Stafford
Myrna Fahey ... Alice Page
Rhodes Reason ... Anthony Page
Cloris Leachman ... Beatrice Stafford
Harry Ellerbe ... Walter Devon
Description: A newlywed bride must hide a secret about her husband's whereabouts. She is blackmailed by an eavesdropping maid and pressured by others to tell her secret.
Download link (torrent file)
http://s000.tinyupload.com/index.php?file_id=98662815159899216400
https://drive.google.com/file/d/0Bzph8sb3Hdu_NUhWVHp4Y2dGNUk