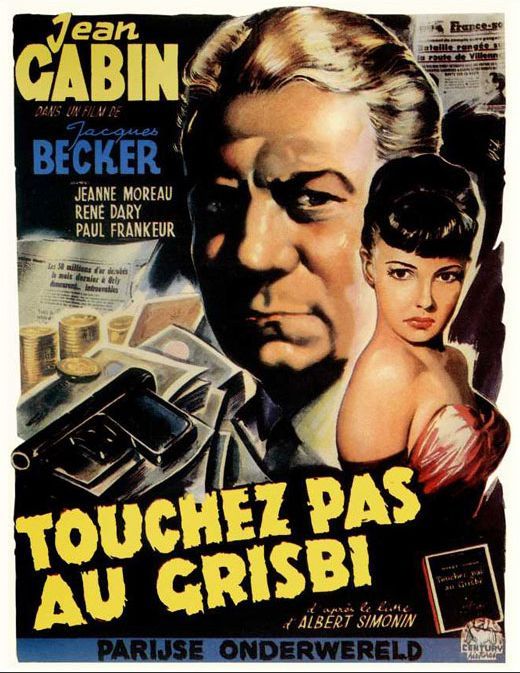 Rating 7.8/10
Runtime: 96 min
Language: French
Country: France
Directed by: Jaques Becker
IMDb Link: http://www.imdb.com/title/tt0046451/

Cast

Jean Gabin ... Max dit Max le Menteur
René Dary ... Henri Ducros dit Riton
Dora Doll ... Lola
Vittorio Sanipoli ... Ramon
Marilyn Buferd ... Betty
Gaby Basset ... Marinette
Daniel Cauchy ... Fifi

Description: Max, an old gangster, and his buddy Riton have got away with 50-million francs in gold bars. They think they ought to retire now, but Riton's girl-friend is tired of him, and has a new protector, Angelo, who is the boss of a rival gang. Through her, Angelo learns about his rival's "grisbi" (loot) and plots to get it. So he kidnaps Max's partner. Max asks some of his friends for help but then gets the message he can exchange the money for his partner.

Screens:

https://drive.google.com/file/d/0Bzph8sb3Hdu_bEc5a1o1eUVqRjA
http://s000.tinyupload.com/index.php?file_id=06756768588013737315
Also included set of extras, with English subtitles:
*
Video interview with actor Daniel Cauchy
- 7'27"
*
Excerpt from an episode of the French television series Cineastes de notre temps dedicated to Jacques Becker, with screenwriter Maurice Griffe, Grisbi author Albert Simonin, actor Lino Ventura and François Truffaut
- 5'41"
*
1972 interview excerpt with Lino Ventura
- 9'11"
*
Original theatrical trailer
- 4'00"
*
Clip from a 1978 interview with composer Jean Wiener
- 1'52"
Video and audio information:
Video : 2.09 GB, 3094 Kbps, 23.976 fps, 714x478 ~> 714x535 (4:3), V_MPEG4/ISO/AVC x264 core 118
Audio : 133 MB, 192 Kbps, 48000 Hz, 1 channel, 0x55 = AC-3, CBR
Subtitles (English closed captions embedded in a movie, to play them choose Subtitle=>Sub Track in VLC Player and separate English, Spanish, German, Portuguese-Brazilian, Polish, Turkish, Greek, Serbian), posters, sample and screenshots included