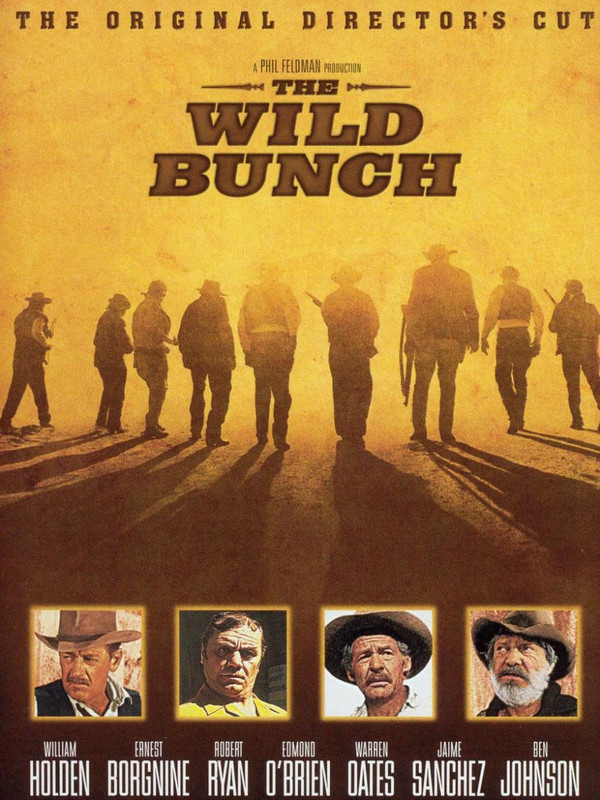 Rating 8.0/10
Runtime: 144 min
Language: English
Country: USA
Directed by: Sam Peckinpah
IMDb Link: http://www.imdb.com/title/tt0065214/

Cast

William Holden ... Pike Bishop
Ernest Borgnine ... Dutch Engstrom
Robert Ryan ... Deke Thornton
Edmond O'Brien ... Freddie Sykes
Warren Oates ... Lyle Gorch
Jaime Sánchez ... Angel
Ben Johnson ... Tector Gorch
Emilio Fernández ... Mapache
Strother Martin ... Coffer
L.Q. Jones ... T.C
Albert Dekker ... Harrigan
Bo Hopkins ... Crazy Lee

Description: A few months before World War I, an aging band of outlaws led by Pike Bishop rob a Texas bank intent on using the money to retire. When the robbery goes wrong, the gang is forced to flee to Mexico with Bishop's reformed ex-partner, Deke Thornton, in hot pursuit. With nothing to show for the failed robbery, Bishop's gang agrees to steal a shipment of guns for General "Mapache" Juerta, to restore their fortunes. With Thornton closing in, and their association with the evil Juerta trying their conscience, Bishop and co. prepare for their lawless past to catch up with them.

Screens:

https://drive.google.com/file/d/0Bzph8sb3Hdu_MmVpUzlTdnhBbUU
http://s000.tinyupload.com/?file_id=18800785873353728930
Also included a set of extra materials:
*
An excerpt from "A simple adventure story - Sam Peckinpah, Mexico and The Wild Bunch"
- a documentary film by Nick Redman
*
Never seen before outtakes
*
"Sam Peckinpah's West - Legacy of a Hollywood renegade"
- the documentary reveals a tortured artist whose genius and demons changed the Western forever. Interviewees include actor/director Billy Bob Thornton, Benicio Del Toro, Paul Schrader, film critic Roger Ebert, actors who worked with Peckinpah such as Harry Dean Stanton, Stella Stevens, L.Q. Jones and others. The personal side of Peckinpah will feature interviews with family members, sister Fern Lee, son Mathew Peckinpah, plus exclusive home movies and photos.
*
"The wild bunch - An album in montage"
- Nominated in 1996 for an Academy Award for Best Documentary Short Subject, The Wild Bunch: An Album in Montage is a behind the scenes look at the making of an American classic. In 1995, some 70 minutes of black and white footage of Peckinpah directing The Wild Bunch were discovered on a shelf in the vaults of Warner Bros. Studios. No one knows who shot them or how they got there, but they've sat there for over a quarter of a century. Paul Seydor, a Peckinpah scholar, teamed up with Nick Redman, a music archivist who'd recently restored the soundtrack of The Wild Bunch for compact disc. Combining newly found footage, scenes from the finished movie, and commentary, they have created a remarkably insightful work: a privileged glimpse at a great director working on his masterpiece. With the voices of Ed Harris, Ernest Borgnine, Edmond O'Brian and others.
*
"Cambridge Film Handbooks: Sam Peckinpah's The Wild Bunch" (1999) by Stephen Price
- Demonstrating to filmmakers the power of irony as a narrative voice and its effectiveness as a tool for exploring and portraying brutality, The Wild Bunch fundamentally changed the Western, moving it into a more brutal and psychopathic territory than it had ever inhabited before. This volume includes freshly commissioned essays by several leading scholars of Peckinpah's work. Examining the film's production history from script to screen, its rich and ambivalent vision of American society, and its relationship to the western genre, among other topics, it provides a definitive reinterpretation of an enduring film classic.
Stephen Prince is Associate Professor of Communication Studies at Virginia Polytechnic Institute and State University. He is the author of Savage Cinema: Sam Peckinpah and the Rise of Ultra-Violent Movies; Movies and Meaning: An Introduction to Film; and Visions of Empire: Political Imagery in Contemporary American Film.
*
"Savage Cinema: Sam Peckinpah and the rise of ultraviolent movies" (1998) by Stephen Prince
- More than any other filmmaker, Sam Peckinpah opened the door for graphic violence in movies. In this book, Stephen Prince explains the rise of explicit violence in the American cinema, its social effects, and the relation of contemporary ultraviolence to the radical, humanistic filmmaking that Peckinpah practiced. Prince demonstrates Peckinpah's complex approach to screen violence and shows him as a serious artist whose work was tied to the social and political upheavals of the 1960s. He explains how the director's commitment to showing the horror and pain of violence compelled him to use a complex style that aimed to control the viewer's response. Prince offers an unprecedented portrait of Peckinpah the filmmaker. Drawing on primary research materials--Peckinpah's unpublished correspondence, scripts, production memos, and editing notes--he provides a wealth of new information about the making of the films and Peckinpah's critical shaping of their content and violent imagery. This material shows Peckinpah as a filmmaker of intelligence, a keen observer of American society, and a tragic artist disturbed by the images he created.
Video and audio information:
Video : 2.24 GB, 2213 Kbps, 23.976 fps, 1024x422 (2.4:1), V_MPEG4/ISO/AVC x264 core 130
Audio : 464/83 MB (main/commentary), 448/80 Kbps, 48000 Hz, 6/2 channels, 0x55 = AC3/VORBIS, CBR/VBR
Subtitles (English, Spanish, French, Portuguese, Italian, German, Danish, Dutch, Finnish, Norwegian, Swedish closed captions embedded in a movie, to play them choose Subtitle=>Sub Track in VLC Player and separate English, Greek, Turkish, Polish), posters and screenshots included
Dual audio track information
This movie contains two audio tracks, one is original English, and the other is commentary by Peckinpah biographers: Nick Redman, Paul Seydor, Garner Simmons and David Weddle. You can use VLC Player to easily choose between any of audio tracks (Audio => Audio track and switch to main audio track on Track 1, commentary on Track 2)