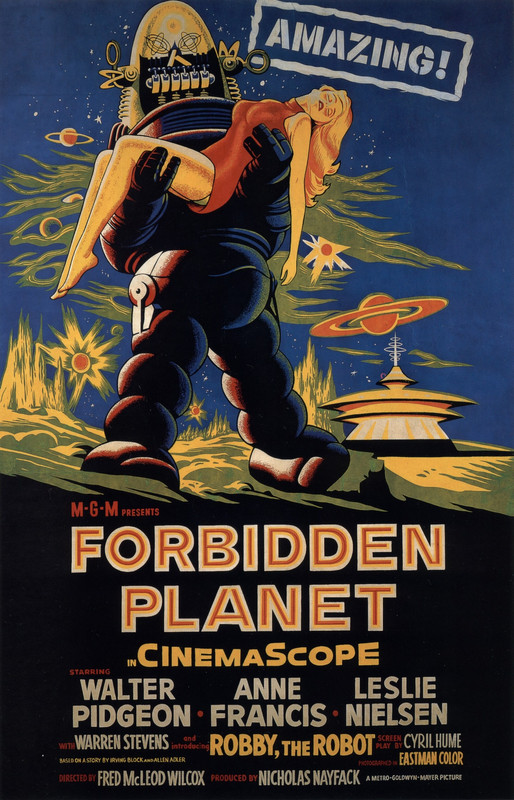 Rating 7.7/10
Runtime: 98 min
Language: English
Country: USA
Directed by: Fred M. Wilcox
IMDb Link: http://www.imdb.com/title/tt0049223/

Cast

Walter Pidgeon ... Dr. Morbius
Anne Francis ... Altaira Morbius
Leslie Nielsen ... Commander Adams
Warren Stevens ... Lt. 'Doc' Ostrow
Jack Kelly ... Lt. Farman
Richard Anderson ... Chief Quinn
Earl Holliman ... Cook
Robby the Robot ... Robby the Robot
George Wallace ... Bosun
Robert Dix ... Crewman Grey

Description: An expedition is sent from Earth to Altair in the constellation of Aquilae (some 17 light years from Earth) to discover what happened to a colony of settlers on its fourth planet, Altair-4. They find that Dr. Edward Morbius and his beautiful daughter Altaira are the only survivors from the original expedition that had arrived some 20 years before. Morbius isn't exactly pleased to see them and would have preferred that they not even land their spaceship. He does his best to get them on their way but Commander Abrams and his men soon face an invisible force leading them to believe that Morbius and the girl are in danger. Morbius claims to know nothing of other life on the planet but does reveal there once existed a far superior race, now extinct, that left a huge subterranean industrial and scientific complex.

Screens:

https://drive.google.com/file/d/0Bzph8sb3Hdu_QXhSQ0J5SGxUYU0
http://s000.tinyupload.com/?file_id=32939103911798394823
Also included a set of extra materials:
* Deleted scenes
- Presents footage from a "workprint" used by the film's composers, editors and effects artists during post-production. Some of these moments were deleted from the film entirely, while other footage gives us scenes in their rough state before the addition of special-effects and sound. The chief points of interest are the alternate opening narration, the spaceship landing, a wholly cut sequence of Robby speeding Adams and his men across the desert in the "atomic car" toward their first encounter with Morbius and the dialogue concerning Altaira`s "maiden purity".
* Lost footage
- Features test footage of special-effects sequences, such as planets and starfields, "DC Stations", the C-57D model over Altair 4, alternate takes of the spaceship landing and the Monster`s "footprints", matte paintings of the Krell Machine and footage incorporated into the Monster blaster battle.
* Excerpt from MGM Parade S01E27 & S01E28 (1956)
- Walter Pidgeon addresses us in MGM Parade. While hosting a TV adaptation of "Captains Courageous", he breaks to promote his new MGM feature, Forbidden Planet. Robby joins him in one of them, and the spot gives Robby a weird malevolent twist that must have come from some PR hack`s idea of what a giant robot was supposed to act like.
* The Thin Man S01E23 - "Robot Client" (28.02.1958)
- Robby, with various modifications, made appearances on TV shows for years afterward, most famously on The Twilight Zone. Here we find him framed for murder in "Robot Client", a 1958 episode of "The Thin Man" TV series starring Peter Lawford and Phyllis Kirk as Nick and Nora Charles.
* "Amazing! Exploring the far reaches of Forbidden Planet (2006)"
- In addition to reuniting the surviving cast members of the '56 classic (including Leslie Nielsen, Anne Francis, Richard Anderson, Warren Stevens, and Earl Holliman), "Amazing! Exploring the far reaches of Forbidden Planet" is an appreciative tribute to Forbidden Planet with some of Hollywood's foremost sci-fi fans including special effects masters Dennis Muren and Phil Tippett, SF movie expert Bill Warren and others.
* "Robby the Robot: Engineering a sci-fi icon (2006)"
- A featurette about the robot's design, creation and pop-cultural history, featuring original "Robby" designer Robert Kinoshita, Bill Malone (current owner of the original Robby), and Fred "The Robot Man" Barton, a lifelong robot fanatic who now sells fully authorized, full-scale replicas of Robby for sci-fi fans with deep pockets.
* "Watch the Skies!: Science fiction, the 1950s and us (2005)"
- A documentary from Turner Classic Movies, written and directed by Time magazine critic Richard Schickel. It's a thoroughly comprehensive survey of '50s sci-fi and its influence on the next generation of film directors, including engaging interviews with George Lucas, Steven Spielberg, John Carpenter, Ridley Scott and James Cameron.
* Trailer
Video and audio information:
Video : 3.23 GB, 4701 Kbps, 23.976 fps, 1024x426 (2.4:1), V_MPEG4/ISO/AVC x264 core 142
Audio : 316 MB, 448 Kbps, 48000 Hz, 6 channels, 0x55 = AC3, CBR
Subtitles (English (including hearing impaired), Spanish, French, German, Norwegian, Portuguese closed captions embedded in a movie, to play them choose Subtitle=>Sub Track in VLC Player and separate English, Spanish, French, Portuguese, German, Dutch, Hungarian, Turkish, Polish, Serbian, Swedish, Danish, Czech, Greek, Italian), posters and screenshots included