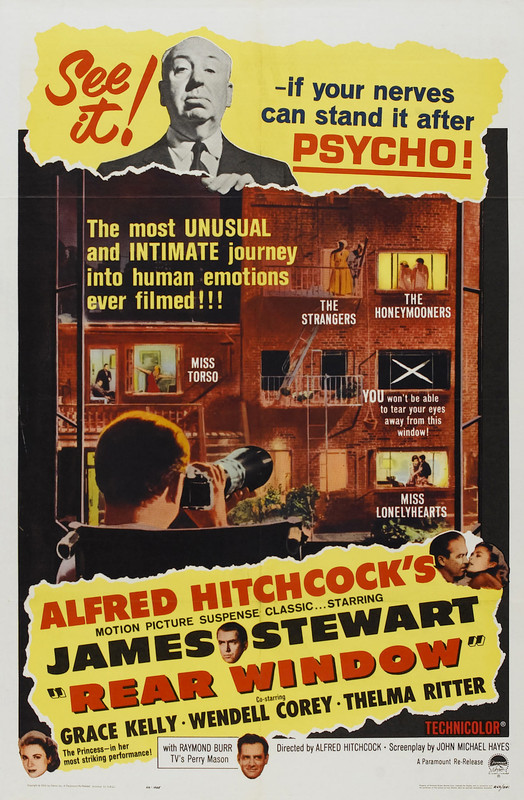 Rating: 8.7/10
Runtime: 112 min
Language: English
Country: USA
Directed by: Alfred Hitchcock
IMDb Link: http://www.imdb.com/title/tt0047396/

Cast

James Stewart ... L.B. Jefferies
Grace Kelly ... Lisa Carol Fremont
Raymond Burr ... Lars Thorwald
Wendell Corey ... Det. Thomas. J. Doyle
Judith Evelyn ... Miss Lonelyheart

Description: In 1950-something New York, an adventuresome free-lance photographer finds himself confined to a wheelchair in his tiny apartment while a broken leg mends. With only the occasional distraction of a visiting nurse and his frustrated love interest, a beautiful fashion consultant, his attention is naturally drawn to the courtyard outside his "rear window" and the occupants of the apartment buildings which surround it. Soon he is consumed by the private dramas of his neighbors lives which play themselves out before his eyes. There is "Miss Lonelyhearts" so desperate for her imaginary lover that she sits him a plate at the dinner table and feigns their ensuing chat. There is the frustrated composer banging on his piano, the sunbathing sculptress, the shapely dancer, the newlyweds who are concealed from their neighbors by a window shade, and a bungling middle-aged couple with a little yapping dog who sleep on the fire escape to avoid the sweltering heat of their apartment... And then there is the mysterious salesman whose nagging, invalid wife's sudden absence from the scene ominously coincides with middle-of-the-night forays into the dark, sleeping city with his sample case. Where did she go? What's in the trunk that the salesman ships away? What's he been doing with the knives and the saw that he cleans at the kitchen sink?

Screens:

https://drive.google.com/file/d/1_c1nbuhP-Ath9ATPY05WIuMSKa_dl5Xz
http://s000.tinyupload.com/index.php?file_id=25586344129655090156
Video and audio information (to be added later):
Video :
Audio :
Additional set of extras included (to be added later):
* "Breaking Barriers: The Sound of Hitchcock" - at almost 24 minutes, it focuses on the manipulation of audio-orchestral bridges and how it melded with the plots
* "Rear Window Ethics: Remembering and restoring a Hitchcock classic" documentary
* Conversation with screenwriter John Michael Hayes
* "Pure Cinema: Through the Eyes of the Master" - this in-depth documentary allows directors such as William Friedkin, Martin Scorsese and Guillermo del Toro to examine the power and mastery of Hitchcock's cinematic style, breaking down such signature sequences as the bell tower scene in Vertigo, the attic attack in The Birds and the shower scene in Psycho.
* Hitchcock-Truffaut interview excerpts - from 1962, run 16 minutes and are shot to the backdrop of scenes and stills from the film.
* Trailer
Subtitles (English, Spanish, French closed captions embedded in a movie, to play them choose Subtitle=>Sub Track in VLC Player and separate English, Spanish, Portuguese, Swedish, Turkish, Danish, Finnish, Polish, Dutch, Italian, German, Czech, Serbian, Hungarian, Norwegian, Romanian) to be added later
Dual audio track information
This movie contains two audio tracks, one is original English, and the other is commentary by John Fawell, author of "Hitchcock's Rear Window: the well-made film". You can use VLC Player to easily choose between any of audio tracks (Audio => Audio track and switch to main audio track on Track 1, commentary on Track 2)